---
journal "NEW GLASS"


"NEW GLASS" is published quarterly, and written in Japanese.

---
Current Issue
---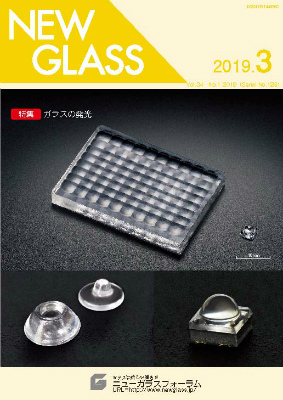 NEW GLASS

Vol.34 No.1 2019
(Serial No.126)
---

Foreword
Concept of Glass State in Different Fields: Spin Dipole and Strain Glasses ------- p.1
Katsuhisa Tanaka
---

Feature Articles: The emission of light of the glass
1) Current status of R&D of efficient luminescent glass and issues for practical application ------- p.3
Tomoko Akai
2) Mid-infrared emitting glasses prepared by a containerless processing ------- p.7
Kohei Yoshimoto etc.
3) Rare-earth ion doped glass for near-infrared wideband phosphor Pr3+ doped GeO2 based glass ------- p.11
Shingo Fuchi
4) A Mechanism of Nanocrystallization of Glass and Glass Structure ------- p.15
Kenji Shinozaki
5) Preparation of light-energy storage glass ceramics using Frozen sorbet technique ------- p.21
Takayuki Nakanishi
6) SiAlON phosphor in glasses ------- p.25
Hiroyo Segawa etc.
---

New Glass Reserch Topics
Fabrication of functional glass fibers by using melt in tube method ------- p.29
Jianrong Qiu
---

Lectures For Newcomer And Leaders
Glass Defects from Corrosion of Refractories ------- p.33
Kenji Matano
---

Introduce Research Institute
1) Stay at Sorbonne Universite in France ------- p.37
Rikiya Kado
2) Second stay in University of Rennes 1 France ------- p.41
Yusuke Daiko
---

Topics of Meeting on Glass: ICG Annual Meeting 2018
1) Hosting ICG Annual Meeting 2018 ------- p.44
Hiroyuki Inoue
2) Report on ICG Annual Meeting 2018 ------- p.49
Michiyuki Nakamura
3) Report on the ICG Annual Meeting 2018 Yokohama ------- p.52
Kazutaka Hayashi
4) Report on the International Commission on Glass (ICG) Annual Meeting 2018 ------- p.55
Toshiro Oniki
---

Introduction of New Glass Products & Production Technology
1) Development of a free fall type submarine probe 'Edokko Mark 1' ------- p.58
Hiroshi Takahashi
2) NIR cut off filter glass for digital camera cmos senser ------- p.61
Kazuyoshi Yanagi
---

Introduction of New Book
Teaching Glass Better -10th Anniversary of the ICG Summer School- ------- p.63
Akira Takada
---

Relative Organization
Report on the New Year Party 2019 of the Glass Industry Conference ------- p.66
New Glass Forum
---

History of research activities
A Life in US universities for a half century (Part 2) ------- p.70
Minoru Tomozawa
---

Column
Travel and stay with research experiences for glass and crystal ------- p.76
Takumi Fujiwara